Mika Kurosawa Profile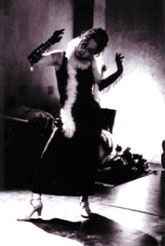 Mika Kurosawa, the "God Mother" of Japanese contemporary dance scene, is born in 1957 in Yokohama into a family of modern dancers/choreographers. Being a promising young dancer, she went to New York in 1982, where she developed her own distinct style through collaborations with local artists and being strongly influenced by the experimental, bare-movement style of the Judson group. Returning to Japan in 1985, she started collective works based on improvisation with musicians, artists, and poets under the name of "Mika Kurosawa and Dancers," which continued for 15 years in Japan and in other countries. In 1999 she started to focus on solo dances. Since then, Kurosawa performed her solo pieces in NY, Montreal, Bangkok and Seoul. In 2007 she gave successful performances in New York at The Kitchen; of her solo, Romantic Night and lonely woman, a work with dancers and musicians of Tokyo and New York. Her performances also were highly acclaimed by critics of The New York Times. Alongside she has been performing under an alias "LouReeko (Ruriko) Kazama" which denies/disguises.
(Photo: Shigetada Takahashi)
Mika Kurosawa, called "God Mother" in Japanese contemporary dance scene, was born in Yokohama, Japan in 1957 to a family of modern dancers/choreographers. She began learning modern dance at the age of five from her parents, Teruo Kurosawa and Eiko Shimoda. During the first 20 years of her career, she received many prestigious awards.
From 1982 to 1985, with a grant from the Japanese government and Asian Cultural Council, she lived and danced in New York. In 1983, she performed pieces of Amy Rosen and Bebe Miller, and became a member of the Nina Wiener and Dancers with whom she toured in the United States and Europe in 1994. Thoroughly drawn to and influenced by the experimental, bare-movement style of the Judson Group, Kurosawa developed her own distinct style. Later her interests shifted towards what is more secretive, underground and intimate practice.
As she returned to Japan in 1985, she began giving performances regularly at small and underground venues, under the name of Mika Kurosawa & DANCERS. Since then she has toured with artists of different disciplines including Butoh dancers, painters, poets and musicians, and given workshops throughout Europe and Asia as well as Japan. From 1987 to 2003 her two dance series "Fune wo Nagameru: Gazing the ship…" (1987-1994) and "Guzen no Kajitsu: The Fruit of Chance" (1990-2003) were the center of her artistic activities. "Fune wo Nagameru" was a collaborative work by Kurosawa, Keisuke Ohta (violin) and Deguchi Yajirushi (text). It was repeatedly performed both home and abroad 47 times. "Guzen no Kajitsu" series was improvisations and collaborations on stage with artists of different disciplines. This project was an attempt to construct dance through improvisations, to see how dance is born and grows within the certain conditions and techniques that are given. The series was performed consecutively for 44 times. In 1992, Mika & DANCERS performed "La Danse au degré Zéro: the Dance of Zero degree" at Rencontres Choréographiques Internationales de Bagnolet Seine Saint-Denis, France.
Despite her extensive experience in solo work, she decided to depart from the past and make a fresh start to focus on solo dance in 1999, committing more seriously to solo dance. The series "Bara no Hito: The Rose Man" is a solo dance, but also a collaboration at the same time, with Masaaki Aikawa (lighting), Kei Shii (public acoustic), objet and costume designers and Kumi Hiraoka (management).
In addition, she has performed some of her past solo works in the 1980s-1990s since 2002, and in 2003 Mika & DANCERS started to perform her past group pieces as "Dance★Show!" by her gang who have worked with her for the past 20 years.
In 2000 Kurosawa performed her solo pieces at the Movement Research's Monday Performance at the Judson Memorial Church in NY and the Matzoh Factory in Brooklyn, NY. She was invited to perform in Bangkok Fringe Festival in 2004 and Korea-Japan Friendship in Dance 2005 Festival. In 2007, she performed "Romantic Night" and "lonely woman" at The Kitchen, NY. Her performance was mentioned in The New York Times as following: "… Mika Kurosawa must inspire eye-rolling envy among other performers. She captivates when she does very little. She captivates when she does nothing." (Claudia La Rocco)
In 2002 Kurosawa participated in a theatre-cabaret show by Komatcha Klezmer, which is the only group that plays original music with a Yiddish flavor, led by Kazutoki Umezu (composer and sax player), she came out under the name of LouReeko (Ruriko) Kazama to deny/disguise Mika Kurosawa in the genre she boldly defines as "borderless folk dance." Kazama took part in the "Tu montes?" by French visual artist Nadia Lauro, as a part of France Danse 03 festival, Japan. Kurosawa's activities range from her own performances to choreography for other artists, workshops and teaching class of modern dance.
---
Mika Kurosawa & Dancers Profile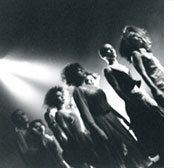 In 1985, Mika Kurosawa began giving group performances with "Mika Kurosawa & DANCERS". Her experimental performances at studio200, in which a sub-group of the "DANCERS" interpreters, called the "Yonin Musume (The Four Sisters)", played a prominent role, became one of "Mika Kurosawa & DANCERS" most noteworthy activities during the early stages of the group's development.
From the 1990′s until 2002, Kurosawa presented their improvisational series "Guzen no Kajitsu: The Fruit of Chance" for a total of 44 consecutive performances.
"Mika Kurosawa & DANCERS" at present combines provocative aggressiveness with a generous, bucolic playfulness. This "disharmonious" ensemble, where the youngest and oldest members are separated by 40 years, all the more startles and pleases audiences by its diverse group structure. Each performance overflows with unpredictable magnetism and dynamism, within the framework of Mika Kurosawa's choreography.
"Mika Kurosawa & DANCERS" do not consider their "DANCERS" as dancers in the conventional sense, i.e., "people performing conventional actions with conventional values", but as a body, or object, which derives motivational force on its own and arouses dance in itself, in others and throughout the space in which it exists. "DANCERS" is not, therefore, a collection of individuals. Irrespective of his/her/their number or representational form(s), we call him/her/them "DANCERS". Their recent works include "Dance Show", "jazzzz-dance" and "The Kiss".
(Photo: Motoko Kamata)